Public Education, Neoliberalism, and Teachers: New York, Mexico City, Toronto
By Paul Bocking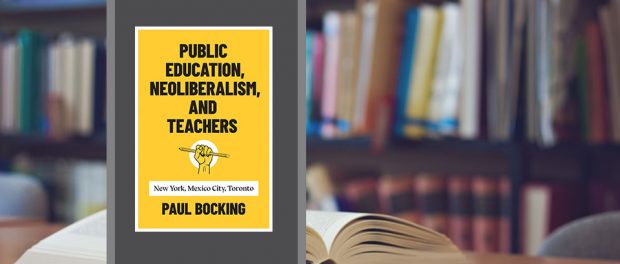 While working on this book review, I struggled with the term "neoliberalism." I asked a few friends and colleagues how they would define it and I got very diverse answers. When I asked them about the impact of neoliberalism on education, I mostly heard silence. The fact that we are unable to describe an amorphous concept that is arguably affecting every moment of our social interactions is terrifying. But it also shows why Paul Bocking's book is an important and timely contribution designed not only for academics studying the field of education, but also for teachers, education workers, and those interested in exploring the impact of neoliberalism beyond the classroom.

Bocking, an occasional teacher from District 12, Toronto and a sessional lecturer in geography and sociology at the University of Toronto and Trent University, explains the impact of neoliberalism on public education by examining attacks on teachers' professional autonomy in three metropolitan areas: New York, Mexico City, and Toronto. Despite being personally invested in the subject of his study, the author acknowledges his professional and personal biases and provides a well-documented and objective comparative analysis of the topic. Using a five-pronged approach, he examines each case study by looking at changes in governance models, shifts of power in relationships between teachers and principals, impact of standardized testing, competition for the budget, and responses by the unions.

A key strength of the book is its accessibility. Although the author dissects complex concepts and layers of intertwined social dimensions, through his clear structure and ability to explain and provide ample evidence supported by interviews with teachers and union activists, the fruit of his work is still accessible to those outside of the realm of education. Because the book contains all evidence to form an informed position on the subject, it makes for a great gift for fellow education workers, activists, family members, and friends who might not understand why unions oppose the limits on professional judgment
so vigorously.