1919: A Graphic History of the Winnipeg Strike
By The Graphic History Collective and David Lester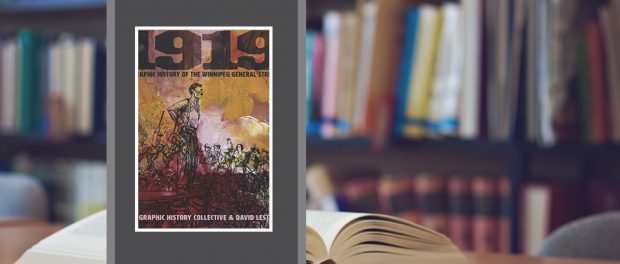 Every so often, you come across a book that surprises you for any number of reasons. 1919: A Graphic History of the Winnipeg General Strike made this list for me. The idea of making history more accessible to people by creating graphic novel style representations is becoming more popular but some people find them lighter in terms of content. If you are looking for a traditional historical account of the Winnipeg general strike, this is not the book for you. However, what the format gives up, creates a different sort of window to view the events leading up to and following June 21, 1919.
The introduction by James Naylor is eloquent, informative and sets the stage for the drama that unfolds in this comic. Once the panels begin, the narration of events is spot on in tone and becomes the backbone of the rest of the work. 1919 relates the events leading up to Bloody Saturday with a broader brush than some other books and lets the reader feel more in touch with the story of the people involved and their struggle.
The art from pages forty-eight to eighty-two, is spellbinding. The unfinished quality of the scenes gives life to the pages and pulls the reader through them. The story doesn't lose sight of its characters and follows them after the events of Bloody Saturday and then does what all good portrayals of history do; it looks forward. The final panels are dedicated to the future struggles and goals of Canadian labour as it grew out of Winnipeg and has continued growing to present.
The book finishes with thoughts from the artist, a photo essay on the event and a comprehensive bibliography of its research sources. A careful look will find some of the inspiration for various panels within those photos.
The only criticism I would comment on with 1919 is that in a few panels there are bits of art that appear to have been added with graphic software, places where the shape or line are perfect. The art style keeps a sketchy feel to it and those few instances can be jarring to the eye and draw it away from the rest of the life on the page. Otherwise, this is beautiful work, accessible to many with an inspiring eye to Canada's labour past, present and future.