Scenic Caves Nature Adventure
Learning through nature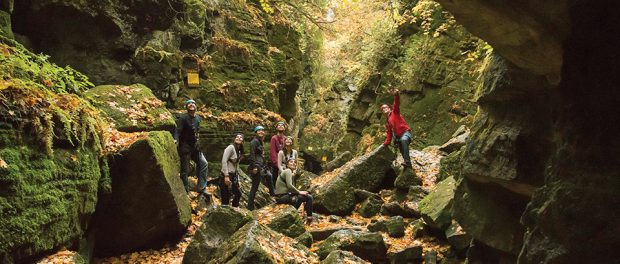 Millions of people worldwide are participating in the current climate strikes to make people aware of the crisis of climate change and to push governments to also recognize the crisis and take action. Young people especially, feel their futures are the most threatened and the world they know will no longer be liveable or sustainable throughout their lifetimes.
For all people, young and old, who may not realize the beauty and gifts at risk, a trip to the Scenic Caves Nature Adventures is just the thing. Visitors can come here to learn hands-on in this natural environment.
Located at the top of the Niagara Escarpment, Scenic Caves Nature Adventures offers tours of and education programs on centuries-old caves and caverns carved by glacial ice. As well, there are plenty of other activities to explore such as Southern Ontario's longest suspension footbridge, the longest twin zip line and a network of pristinely groomed cross country ski trails.
During the spring and summer months, visitors can explore a labyrinth of caves and caverns 70 feet below the surface and learn about their historical significance and how they provided a natural shelter for the Hurons. Visitors can also descend into the aptly named "Refrigerator Cave" or shimmy through "Fat Man's Misery" at just 36 centimetres wide. Throughout the whole year, visitors can enjoy the scenic views of Georgian Bay. Which soon becomes obvious why it was a perfect place for settlers to set up waterway trade routes from its harbour. As you ski or snowshoe throughout the forest trails, one can also observe the foliage and wildlife of this region.
The school group field trips offer a variety of activities that are age and grade appropriate and include educational materials free of charge. The Eco Adventure Tour guides students through an exciting adventure with activities that gives students a chance to view the panoramic geography of Georgian Bay and countryside from the highest point of the Niagara Escarpment; treetop walks; zip lining and a forty-eight metre drop. Participants will learn about the plant and animal ecosystems in this UNESCO designated biosphere reserve. This tour covers subject areas in history, geography, science & technology, phys ed and others.
During the winter months groups can take part in the Scenic Caves Nordic Adventures. On this tour, one will have an charged outdoor experience that involves gliding along 27 kilometres of cross country ski trails and eight kilometres of snowshoe trails.
For all visitors during the warm season, other activities that have yet to be mentioned are gemstone mining; mini golf; nature trails & lookouts; Rocky the Train; the Children's Adventure Playground; tractor wagon rides and a pond & picnic area. Activities during the winter season also include winter trail season passes; guided night snowshoe hikes; Nordic rentals and lessons and the Children's Adventure Playground.
To book your school group field trip contact Chris Westbrooke at 705-446-0256 or cwestbrooke@sceniccaves.com. Detailed information about all the activities at the Scenic Caves Natures Adventures can be found by visiting sceniccaves.com.