Visions of Turtle Island
A performance by Tribal Vision Dance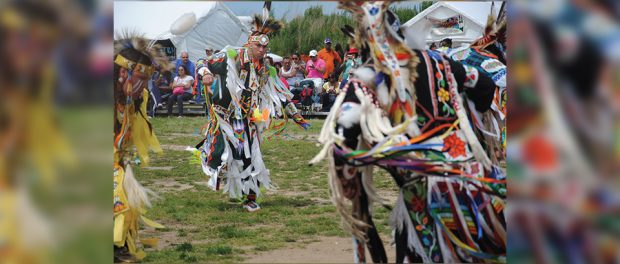 With the 150th anniversary of Confederation fast approaching, it is a great time to embrace the many diverse people and cultures that contribute to making this country so great. And there isn't a more important culture than that of this land's original inhabitants.
Bringing vibrant and exciting Indigenous arts education to Ontario schools is Tribal Vision Dance. This group, specializing in native dance, offers a multimedia show called "Visions of Turtle Island" that includes live singing and dancing in Powwow & Haudenosaunee styles, ending with the Hoop Dance.
Tribal Vision Dance is a family dance troupe from the Six Nations of the Grand River Territory. The group is comprised of champion singers and dancers with a wealth of knowledge and experience to share with young audiences and families, and a desire to build deeper understanding and appreciation of First Nations culture.
The "Visions of Turtle Island" show starts with a dancing and singing performance that offers an engaging look at First Nations culture. Along with this is a video and image presentations to help explain the dances and to illustrate the cultural experience of First Nations people in Canada.
This high energy show showcases live First Nations powwow style singing and dancing and includes a wealth of cultural and historical information. The group explains how dance and music are not just a form of entertainment to them, but their way of giving thanks through ceremony dances and a way of enjoying each other's company through social dances. Both competitive style as well as social dances are shared with the students.
Tribal Vision Dance's performance includes an Ontario curriculum study guide for all ages, grades and skill levels. The 60-minute show focuses on themes such as respect and responsibility for the natural world and the meaning and symbolism in First Nations dance and regalia. Through pre- and post-show discussions and activities, the curriculum focuses on respect for elders, animals and nature, compassion and thankfulness. The expectations are for students to be able to describe, with teacher guidance, types of dances used among Indigenous peoples in the past and the present that express aspects of their cultural identity and to identify how dancers imitate movements found in their natural environment in a variety of ways and incorporate them into a dance phrase.
For more information or to book "Visions of Turtle Island" in Ontario Schools please contact Prologue to the Performing Arts at 1.888.591.9092 or for in class visits, residencies and other
engagements call 1.519.865.2187.