Student privacy
Is there an App for that?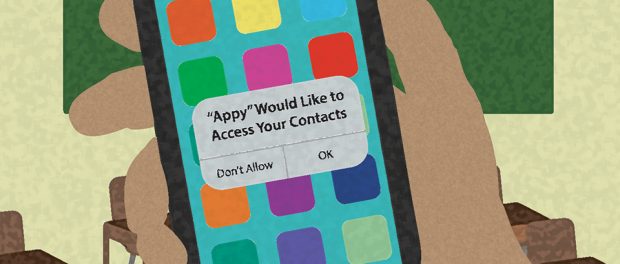 Privacy is a hot topic in our age of constant connection. As the Internet works its way further into every aspect of our lives, we hear regularly about people's private information finding its way into the hands of those who were never intended to see it. And the ever-expanding role that technology plays in our every-day lives, the concept of privacy seems to be constantly evolving. It often seems that society passively looks on as the forward creep of technology slowly invades the previously intimate corners of our lives.
The ubiquitous smartphone has become so much a part of our everyday lives that many people take their use for granted, and although we are occasionally reminded of their potential to intrude on our own personal privacy, we often give little thought to how that might extend to those around us.
Our smartphones contain a great deal of information about us. We've all heard the stories about Facebook and other similar social media sites and the harvesting of a frightening amount of a user's personal information. As educators, we recognize the educational potential of connected devices. Although we have been primarily using equipment and software provided by our employers as our main tool in providing students with access to the online world, there is an ever-increasing opportunity to engage students using their own connected devices. In addition to enriching the curriculum-related learning opportunities of our student, the use of their personal devices to enhance their learning also serves as an exercise in emphasizing the appropriate use of the technology. Educational workers are increasingly using their professional judgment to select educational strategies that involve smartphone apps and other similar technology.
Think back to the last time you installed an app on your smartphone. In all likelihood, at the time of download you were prompted to accept a list of information to which the app would require access. How carefully did you examine that list? And when was the last time you decided not to proceed with the download because you felt the app was too intrusive? The answers to those questions will vary, but certainly a significant number of readers would state that they paid little attention to the prompt, and clicked "Accept" out of habit.
The sharing of information with apps doesn't necessarily end there, either. Many apps, including both those that ask for initial permission to access on-phone data and those that do not, will then require the user to have an account in order to access the features of the app. Some create an account using the user's email address, others allow the user to register through their Facebook account, Google account, or any of a number of other existing accounts that may potentially open up other doors to private information.
Given this access to personal information that is required in order to use most apps, what if you want to use that app with your students? What will they think of the list of permissions, or the request that they sign into their Facebook account? And what about their right to privacy regarding personal information on their smartphone, and in those other social media accounts? Many students wouldn't think twice, but does that put you in the clear as an educational worker?
School boards and universities are legally responsible, under the Municipal Freedom of Information and Protection of Privacy Act (MFIPPA) and the Freedom of Information and Protection of Privacy Act (FIPPA) respectively, for protecting the privacy of the personal information that they keep related to students. That responsibility extends to any educational workers employed by them. Privacy rights are automatic, and must be specifically waived before private information can be released. Both acts require the written consent of the individual, or the person who has lawful custody of any individual under the age of 16, in order for the institution to release any personal information. Those acts clearly outline the requirement to protect students' private information, but they speak specifically to information collected by the institutions, as opposed to other private information that may be at risk during a student's participation in educational activities.
Since MFIPPA and FIPPA make no specific mention of the release of information through the use of apps and other similar technology, additional insight was sought from Brian Beamish, Ontario's Privacy Commissioner, who oversees compliance with the two Acts. Beamish confirmed there could be issues arising from the collection of private information by an app on a student's phone. And when the app is being used for educational purposes at the request of an education worker, any issues of liability with respect to the violation of student's privacy would be borne by the employer. However, employers expect their employees to take reasonable steps to ensure that the employer's legal obligations are met, which places a significant portion of the responsibility back into the education worker's hands.
School boards and other educational employers generally have policies regarding the use of technology by students and employees both. However, most concentrate on the appropriate use of technology by students as opposed to examining any issues of privacy. Many employers have a list of approved software for use on computers owned by the institution. Provincially, the Ontario Software Acquisition Program Advisory Committee (OSAPAC) develops and assesses software in order to provide a selection of provincially licensed software for use by Ontario educators.
But smartphone apps are a moving target that is difficult to pin down. By the time an app can be evaluated for its appropriateness and compliance with privacy protection, it may be obsolete, or a better app may have since been made available. Practically speaking, education workers are left to exercise their professional judgment in order to assess the apps they are interested in having students use. In addition to the myriad pedagogical factors that an educator will consider, it is essential that a critical eye be focused on privacy considerations.
Enter the Decision Tree, a project currently being developed by the Ministry of Education for use in Ontario schools. The project is a collaboration between the Ministry, members of the Ontario Teachers' Federation (OTF) Affiliates, the Office of the Privacy Commissioner of Ontario, school board privacy officers, and legal counsel. It will be a web-based assessment tool that will assist educators in making informed decisions about the apps that they are considering for use with their students. Through a straight-forward, easy to use system that asks the educator a focused set of questions, the tool will produce a report summarizing the various issues to be kept in mind when using an app. The Decision Tree will examine three aspects of an app's suitability: technical factors; pedagogical, curricular and other similar factors; and privacy, security and legal factors. The intent of the tool will be to support professional judgment as opposed to restricting it, and to support the educators in their responsibility for determining the tools that they will use to enhance student engagement and learning in Ontario's classrooms. The release of the Decision Tree tool is currently planned to occur in the fall or winter of the 2017–2018 school year.
Like the decision to use any educational resource with students, a critical eye must be turned to all factors related to the use of personal technology in the classroom. Particular attention must be paid to the privacy of our students' personal information. And although your employer has the ultimate responsibility to protect student privacy, we as educators are the first line of defense. Before using an app, be sure to be aware of what information it is requesting, and what it will be using it for. Prior to using it in your classroom, assess it critically, check if it complies with any technology-related policies your employer may have, use any helpful tools at your disposal, such as the Decision Tree once it becomes available, and, to be completely safe, confirm your choice with an administrator. And finally, be sure your students are aware of what information the app will require from them so that they can make an informed choice about installing it on their personal devices.