Time well spent
A walk in the woods with students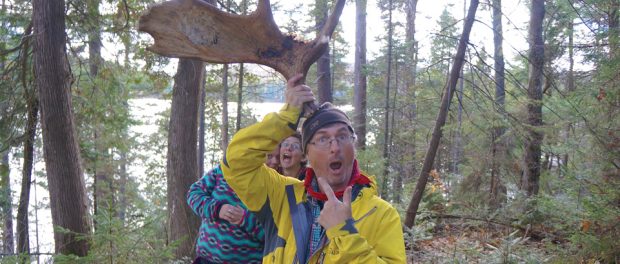 They arrived late, grumpy, unenthused, unprepared and ill-equipped. I wasn't a happy camper! Dangling from their packs were frying pans, cooking pots, over-sized sleeping bags with no waterproofing. Inside was a hodgepodge of loose gear, including a wide assortment of food—loaves of Wonder bread, several cans of ravioli, beans and corn, rice and breakfast cereal in their original containers.
Now, this would have been a normal affair if I was going on one of my regular trips with students who had limited experience in wilderness travel. This group however, were my dual credit students; a secondary school class signed up for an Outdoor Leadership course at a college I teach at. If they pass, they get a high school credit and a college credit—and a solid amount of time playing out in the woods.
It was the other instructor, Ben, travelling with me, who saved the day. Before I gave them all a failing grade and cancelled the bus, he pulled me aside and suggested an alternative teaching technique to just simply losing my temper with them. Ben reminded me that the seven days wandering the woods would do wonders for them, cancelling the trip wouldn't.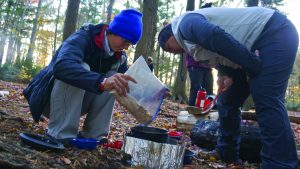 Ben's philosophy was hard for me to grasp. I'm fifty-two years old and have taught for over thirty years. At times I become more than just a little uptight at the youth of today. Part of me wanted to have the bus leave at 9:00 a.m. sharp, dismissing anyone who wasn't there, but Ben had a good point; let nature teach them rather than us. We both knew that by the third day they would hate the trip. They usually do. They'd curse the weather, the cold, the weight of their packs. They would also crave their addictions—phones, alcohol, drugs. Day five or six would be a turning point however. All the negative would wash away. The students would be in solid shape, realize how to pack properly, be used to the poor conditions, and fight off their addictions. They would finally be used to being out there, and loving every minute of it.
We arrived at the trail access by noon and in a cold downpour rain we headed out. Some were miserable, complaining seconds out of the gate. Some were anxious. One even vomited a couple times. Others started singing loud and obnoxious songs. The learning had begun.
I prayed a bear would visit our camp the first night. I'm not sure why it didn't. The students were told to hang their food bags to keep them away from any nuisance bruin wandering into camp for a snack. Some food packs weren't even hung, and the ones that were could have easily been taken down. Rather than getting angry though, I changed tactics. I took one of the worst bear hangs—the pack was simply tied to the trunk of a small birch tree—and dragged it a few hundred meters back in the woods. When the students woke up and started searching, I sat back and watched the action. Panic set in when the group couldn't find their food, some started the blame game when they discovered it, and then began the accusations on who was at fault. My technique worked. Heck, even if it didn't, I enjoyed watching it all unfold.
Individual cooking groups made breakfast. All of them tried consuming the heaviest food items in their packs, to reduce daytime loads. One group enjoyed bacon and hamburger patties pressed between water-soaked balls of Wonder bread. Another group fried up a couple eggs. They had a dozen starting out but by hanging the carton on the side of someone's pack, the rest ended up breaking. I was actually amazed that two survived.
We headed out just before 10:00 a.m. and came back to the campsite a half hour later. The student chosen to take the lead had taken us the wrong way. Ben and I knew the error the moment we started hiking—but again, we were allowing nature to do most of the teaching on this trip. We were just going along for the ride.
Moods heightened a bit when we stopped for lunch beside a majestic cascade flushing alongside maple and beech trees lit up by fall foliage. The sun even peeked through for a bit. However, when packs were strapped back on, and the rain turned to hail, questions and concerns about us continuing on began to fester amongst a few in the group. By the time we reached our second campsite on Maggie Lake there was talk about splitting up. Some wanted to press on, others wanted a slower pace, and one student wanted to go home.
On the morning of day two, I was walking out with five students who all said they had injuries and couldn't continue.
I continued on after the group of students were picked up, travelling counterclockwise on the loop in hopes to soon catch up to the rest of the group traveling with Ben. On day five I caught up to them, just prior to a hail storm, followed by a brief snow storm. The temperature had dropped significantly, averaging four degrees Celsius. It was cold and wet. The students went about their business of setting up tents, a tarp and gathering wood, happily oblivious to the weather. They had become used to the foul conditions, immersing themselves in their environment rather than battling against it.
They were definitely hyped from surviving the extensive hike. There were stories of blinding snow squalls, exhausting uphill scrambles, dehydration, and twisted ankles. But there were also stories of scenic vistas, wildlife sightings and fun times had while on the trail. The group had acclimatized to life in the woods—it was time well spent.
It is interesting how time spent in nature can readjust our characters, allowing us to become familiar once again with wild places. These students left their modern comforts and walked aimlessly—and unprepared—into a cold, wet and foreign environment. For the first few days, all of them questioned being there. They showed signs of anxiety and depression, and an urge to go home. Seven days later, the remaining students walked out feeling confident, prepared, connected to wilderness and themselves.
A few years later I went off on a quest to find where they all ended up. One was a teacher, one was short order cook, and another was a jet fighter pilot. Each one I found, however, said that our trip to Algonquin changed their lives forever.
I also looked for the others who had given up on day two. I only found three. None seemed happy, and all said it was unfair that they failed the course because they didn't finish their time in the woods.
There's definitely magic in the forest. My daughter has taught me that. She's been going on lengthy canoe trips since she was two. It's been part of her life wandering the woods. Kyla has reminded me that we are all born from wilderness. Every culture on this planet originated from the wilds. It only seems you get disconnected the older you get, and phobic (or unaware) of what's out there. Time spent out there doesn't necessarily change you—it reminds you of who your really are. That's magical.