The Human Edge
How far can you be pushed?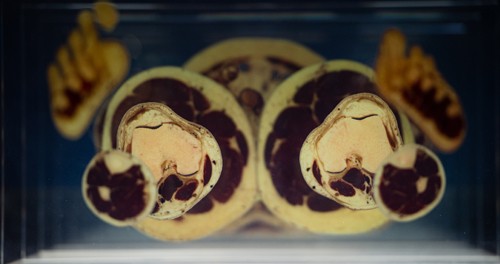 What do frog breathing, glowing zebrafish and sports have in common? They all play a large part in the discovery of the human body and its wonders, possibilities and limits. All this and more can be experienced with a visit to The Human Edge, presented by AstraZeneca at the Ontario Science Centre.
It has been seven years since the Ontario Science Centre opened a permanent exhibition hall. The launch of The Human Edge reveals 80 exhibits that explore the science of the body. It provides visitors with a variety of scenarios that include tests, activities and visual displays that help to demonstrate the ways in which the body develops and how it reacts to individual limits. The exhibition was designed and created by Ontario Science Centre scientists, designers, writers and craftspeople. This included extensive collaboration with leading experts from a wide range of fields, including neuroscience, physiology, bio-mechanics and sports medicine.
The exhibition was built using the best environmentally friendly and sustainable materials and processes. Visitors can participate in fascinating tests and observations about the human body that are displayed in five grouped areas.
In the Beginning explores a newborn baby's developmental stages as well as the changes a woman's body goes through during pregnancy. Gene development is explored, including how it can be affected by both internal and external factors. And inherited family traits are demonstrated through the aid of fluorescent zebrafish, which are used in genetic research.
Mind and Body Limits delves into the fundamentals of the human body. This area focuses on longevity and aging and offers stories of people who have pushed the human body further than ever thought possible. An aging machine provides a glimpse into a visitor's future by offering a sneak peak at watching yourself age 60 years.
Pushing Past the Limits includes the Wall of Pain, Banting & Best's Laboratory and Brain Imaging, which all help to show how the body responds when pushed to extremes. As well, the body's reaction to broken bones, concussions, organ defects and nutritional imbalances are examined.
Outer Limits focuses on athletes and adventure-seekers who push their bodies to the limit in extreme environments, from ocean bottoms to mountain tops. The Single Breath experience includes a grand structure resembling a diving bell. Inside, the glowing blue light gives the feeling of being on a underwater adventure. Visitors learn about champion freedivers who use the process of frog breathing to help them descend to depths greater than 85 metres using only a single breath of air. Meanwhile Canadian Mandy-Rae Cruikshank Krack narrates a voice-over about her freedive to a record-breaking 88 metres in two minutes 48 seconds.
Decision Maze provides fun exercises as you move through the steps of climbing a mountain. You will be asked questions about what you should do next, now that you have reached a higher elevation. Do you choose the right equipment to keep you going? The choice(s) you make could lead to doom and gloom or could set you on your way to a higher plateau. It is amazing how the lack of oxygen, high elevation, glare off the snow and proximity to the sun can affect all your decisions. The Climbing Wall in this area also delivers interesting lessons about the limits of your body and the steps that need to be taken to ensure your safety.
Personal Limits explores common fitness activities: running, rowing and dance.
Other related programs offered at the Ontario Science Centre that have curriculum connections related to Grades 9-12 Health and Physical Education and both Biology and Science for Grades 11-12 range from 45 minutes to a full day. Teachers can book these programs for their students. They include Human Anatomy and Physiology, which offers students a chance to learn about the anatomy and physiology of the human body (Grades 9-12); Way to Glow!, where students enter a real biotechnology lab and use state-of-the-art tools and protocols to transform E. coli bacteria with genes from a bioluminescent jellyfish (Grades 11-12); and DNA Fingerprinting, which allows students to obtain their unique DNA fingerprint in this handson workshop by using current biotechnology techniques and equipment (Grade 12).
For booking information and to access the online application form, go to www.ontariosciencecentre.ca/School/Book/Booking. You can visit the AstraZeneca Human Edge exhibition hall with general admission to the Ontario Science Centre Monday to Friday 10 a.m. – 4 p.m. and weekends/holidays from 10 a.m. – 5 p.m.