A tale of two schools
How one small town is divided by two secondary schools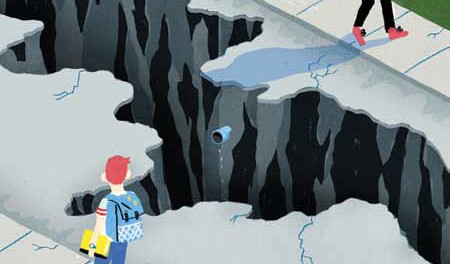 Less than two kilometres separate St. Joseph's Catholic High School and Renfrew Collegiate Institute but they are kept even further apart by over 100 years of history. According to Statistics Canada, the town of Renfrew, Ontario, has a population of 7,846. If you were to include the surrounding townships you could add several thousand to that total. Surely this is an adequate population to support a thriving secondary school, but does it justify two secondary schools?
St. Joseph's Catholic High School (St. Joseph's) was originally established in 1928 and most recently moved to a new facility in 1994. St. Joseph's has a secondary student body of 380. Renfrew Collegiate Institute (RCI), with a population of 455 secondary students, was established in 1881. RCI continues to sit close to its original site and has had many additions and renovations over the past 130 years. During the post-war baby boom, RCI had more than 1,200 students while St. Joseph's has never exceeded 500 students. As a result of provincial funding programs, both Renfrew County School Boards have recently moved elementary students into their secondary schools to fill empty classroom spaces. If a school is not being fully utilized, the Ministry of Education penalizes the school board by withholding funding. All of the secondary students in Renfrew could be easily accommodated in one building without resorting to housing elementary students and also avoiding penalties.
Funding is critical to the operation of any school. The majority of the funding comes from Grants for Student Needs (GSNs) and the majority of those funds are generated by enrolment. The more students you have in a school or board directly impacts the funding provided by the Ministry of Education. This year, every student at St. Joseph's generated $13,048.24 while an RCI student generated $12,506.50 in funding. There is a difference of $541.74 because the Catholic board is considered "Rural and Remote" while the public board is not. Money that could be spent on programming and resources is then spent on advertising and competition to draw students to each school in order to generate more funding. A cross-town rivalry between the two schools in sporting competitions is great for the local paper to write about, but is it the best model for delivering public education?
The number of students in a building not only impacts the funds available to a school, it also impacts the courses a school can offer. More students in a school mean that more courses can be offered. Both Renfrew schools face a similar dilemma in that their enrolment limits the courses that can be offered and ultimately the opportunities available to the students. Despite the extra money that St. Joseph's receives in GSNs, it cannot offer its students any more opportunities than RCI can offer its students. To the detriment of our students, neither of our high schools can offer the selection of courses provided in larger urban centres, particularly at the senior (Grades 11 and 12) level. Courses such as Grade 12 physics or calculus are not offered in either school every year. Physics and calculus are mandatory courses for students hoping to apply to many university programs. The Ontario curriculum supports many creative interdisciplinary courses (IDCs) that involve interconnected and interdependent aspects of multiple courses or disciplines. Most small schools are limited in the IDCs they can provide. The reality is that if the two small secondary schools in our community were combined into one, the breadth and depth of curriculum that could be offered to our students would improve significantly.
One solution employed in Renfrew to address the inability to offer elective courses is to combine classes (split classes). It is not unusual for Renfrew students to be in a class with Grades 10, 11 and 12 students for music, French, computer science or technology courses. It is not just elective courses that are split in Renfrew. Compulsory courses such as math, English and science are often split with different pathways (Applied, Academic and Locally Developed) in addition to different grades. Being a student in one of these split classes can be very confusing as they simply cannot get the same focussed attention they might in straight grade/level classes.
Despite its small size, Renfrew can be proud of the great facilities it has to offer its residents. There is an excellent public hospital, picturesque parks, a great public library, fantastic arena, tennis courts and ball fields. As with the two secondary schools, the residents of Renfrew share these facilities with residents of the neighbouring townships. The children from this area grow up together, going to the library program, and playing hockey, soccer, baseball and tennis. They participate in all of these programs together in these publicly funded places but then go to separate publicly funded schools! Students go to school to learn skills and curriculum, but they also learn so much more from the students with whom they spend every day. Being exposed to many different people and ideas only serves to make our students better prepared to live in a world we all share. Schools work very hard to promote inclusion: to make our facilities and programs safe, accepting and accommodating for all students. Our schools are the best place to bring our children together; schools should not be where we keep them apart.
Of course there is a constitutional argument that Roman Catholics have the right to have their children educated in Roman Catholic schools. One innovative solution to the constitutional dilemma worth considering was devised in another secondary school in Renfrew County. Over 20 years ago the residents of Barry's Bay started to advocate for a new Roman Catholic high school in addition to Madawaska Valley District high school (MVDHS). Instead of building a new school, an agreement was struck between the Roman Catholic and public school boards to hire a Roman Catholic Educator/Pastoral Support Worker. The 419 students at MVDHS have the opportunity to take Religion courses and receive counselling and support from a teacher who is employed by the Roman Catholic school board.
As an educator, this tale of two schools saddens and frustrates me. As a parent, this tale of two schools simply angers me. My children have received a great education, but what kind of education might they have had if there was only one high school in Renfrew? What courses might they have taken? What might they have learned from friends they never had a chance to make? It would be fantastic if Renfrew had the luxury of supporting two schools but, unfortunately, it cannot. The attempt to support multiple schools is punishing our children and seriously impacting their futures and the future of this province. We must do better in this province! We must do better for our children!