Canadian books for high school readers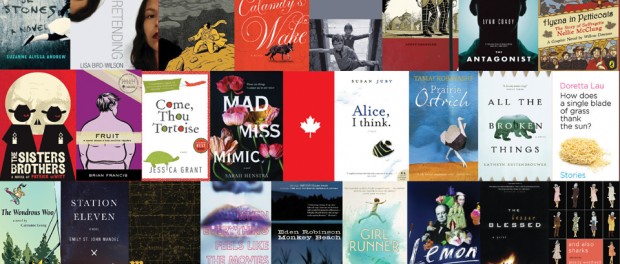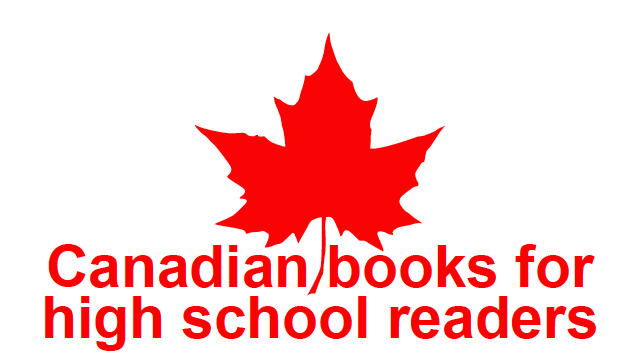 Refreshing your English course syllabus
In late 2014, the writer Natalee Caple penned the manifesto, "Why I Teach Brand New CanLit," inspiring other Canadian university teachers to freshen up their syllabi. The reasons to do such a thing are plentiful, as she went out on to illustrate, chief among them: the work is more relevant to students' lives; authors are alive and perhaps available for class talks; students have no choice but to be original in their responses, and reading brand new CanLit reinforces "Canadian culture…as real and ongoing, lively, diverse and present."
Each of these reasons is applicable to high school classes as well, and to that end, I've curated a diverse list of 25 new or recent Canadian fiction titles that belong on secondary school reading lists. Because while we are fortunate to have Margaret Laurence as our literary foremother, there is more to CanLit than The Stone Angel—as this list makes abundantly clear.
Circle of Stones, by Suzanne Alyssa Andrew
Andrew's debut novel is actually a collection of linked short stories, rich with action and intrigue. When art student Nik's eccentric girlfriend Jennifer disappears, he embarks upon a cross-country trip to find her, encountering characters along the way who take up the narrative like a baton and bring the novel into their own points of view. Gritty and fast-paced with beautiful prose, Circle of Stones will evoke conversations about the fragmentation of stories and multiple perspectives.
Just Pretending, by Lisa Bird-Wilson
Métis writer Bird-Wilson's debut collection was shortlisted for the Danuta Gleed Award, and took home four prizes at the 2014 Saskatchewan Book Awards. Several stories in this diverse collection would resonate with young readers. Bird-Wilson's portrayal of lives on the margins of family and society in general testify tothe power of story.
Louis Riel, by Chester Brown
Graphic novels are great tools because they offer students the illusion that they're getting a break, appeal to the text-averse, and offer a whole new way of looking at narrative. Brown's award-winning book tells the story of the charismatic, and perhaps mad, nineteenth-century Métis leader whose struggle to win rights for his people led to violent rebellion on the nation's western frontier.
In Calamity's Wake, by Natalee Caple
It seems fitting to include one of Caple's own books, a western about one girl's search across the Badlands of the American West in the 1880s in search of her mother, who happens to be the notorious Calamity Jane. The novel is remarkable in structure, comprising flash fiction, poetry, excerpts from dime store novels, and written-down oral tales. Critics say this is Caple's answer to Michael Ondaatje's The Collected Works of Billy the Kid.
How You Were Born, by Kate Cayley
Cayley, who has won awards for her YA fiction, her poetry and her playwriting, continued her success with her debut story collection, which won the 2015 Trillium Book Award. Alice Munro comparisons abound for short story writers, but the comparison here is fitting—of particular note is the fantastic, haunting coming-of-age tale, "The Summer the Neighbours Were Nazis."
Two Generals, by Scott Chantler
Chantler's graphic memoir tells the story of World War Two from the perspective of the author's grandfather. The Toronto Star called this one "Our top pick [for] Remembrance Day, not for its novel mix of format and subject but for its stunning success in bringing home the real foot soldier's experience…."
The Antagonist, by Lynn Coady
One book later, the amazing Lynn Coady would win the Scotiabank Giller Prize for Hellgoing, but I think The Antagonist still stands out as the high point of her career so far. It's the story of a jock growing up in a small town, his size and strength coming to define the person he is. It's an examination of violence and masculinity, and of the gulf between the ways we construct ourselves and how we are ultimately seen.
Hyena In Petticoats, by Willow Dawson
Nearly 100 years after (some) Canadian women began receiving the right to vote, this biography of suffragist Nellie McClung in graphic form is particularly timely. This title is recommended for teen readers who are interested in feminism, Canadian history or great comic art. There is nothing musty or dusty about this history.
The Sisters Brothers, by Patrick DeWitt
Violent and gory, not a novel for the faint of heart, DeWitt's The Sisters Brothers won nearly every award going when it was published in 2011. "Patrick DeWitt doffs his hat to the classic Western, and then transforms it into a comic tourde-force with an unforgettable narrative voice that captures all the absurdity, melancholy, and grit of the West—and of these two brothers, bound to each other by blood and scars and love."
Fruit, by Brian Francis
In the 2009 Canada Reads Competition, Francis's first novel came so close to beating Lawrence Hill's The Book of Negroes. It's the coming-of-age story of a young boy whose nipples, yes, just happen to talk to him. Though don't let that slight absurdity take away the fact that this is a terrific novel about growing up different and the courage it takes to be one's self in the world.
Come Thou Tortoise, by Jessica Grant
And speaking of misfits, there is Audrey, fittingly nicknamed Oddly, whose challenges in the IQ department are supplemented by the wisdom of her pet tortoise, Winnifred. Darkly funny and ever-curious, and featuring a wacky road trip, this novel cements Jessica Grant as one of the stars of Newfoundland's writing scene, and CanLit in general.
Mad Miss Mimic, by Sarah Henstra
This title was published in the spring to great reviews, a YA title with great crossover appeal whose substance is underlined by Henstra's "day job" as an English Literature professor at Ryerson University.
There is a bomb-plot, and a love-plot, and Shannon Ozirny in the Globe and Mail called this one "the perfect beach read for that teen who got an A in History (and would rather stay inside watching Downton Abbey than go to the beach in the first place)."
Alice, I Think, by Susan Juby
Juby has become established as a writer of YA fiction, but her smart and funny books have always appealed to older readers as well. This one, her first novel, is about another misfit character. Part Holden Caulfield, part Adrian Mole, Alice has been traumatized by years of homeschooling and is now about to brave the wilds of high school in small town BC.

Prairie Ostrich, by Tamai Kobayashi
Kobayashi's debut novel about a young Japanese-Canadian girl growing up on the prairies in the 1970s helped earn her the Dayne Ogilvie Prize for LGBT Writers in 2014. Egg's parents are still traumatized by their World War Two experiences, are grieving the loss of their son, and don't know what to make of their elder daughter's romantic relationship with a local girl. Egg doesn't understand the disarray she is witness to, and seeks solace in books at the library.
All the Broken Things, by Kathryn Kuitenbrouwer
Recently nominated for the Toronto Book Award, Kuitenbrouwer's third novel is about bear wrestling, Vietnamese boat people, CNE freak shows, and the production and effects of Agent Orange. It has a mythic quality as its young protagonist navigates the streets of 1970s Toronto (and the wilds of its High Park) in order slay metaphoric dragons.
How Does a Single Blade of Grass Thank the Sun, by Doretta Lau
The title story, "How Does a Single Blade of Grass Thank the Sun?" is about a group of Chinese-Canadian young people in Vancouver who repurpose racist language and stereotypes for their own devices. So smart, daring and surprising, but most of all funny, I was stirred by its powerful conclusion in which the friends raucously paint over a mural depicting colonial scenes. In her stories, Lau picks up where the vandals left off, portraying the experiences of Asian-Canadians but not in the ways in which we're most familiar.
The Wondrous Woo, by Carrianne Leung
Shortlisted for the 2014 Toronto Book Awards, Leung's debut is the story of Miramar Woo, the quintessential Chinese girl—at least on the outside. On the inside,she's a kick-ass kung fu heroine with rock star flash, sassy attitude, and an insatiable appetite for adventure. When her family unravels in the aftermath of her father's death, Miramar has to reconcile her separate selves to figure out who she really is—and what she's going to become.
Station Eleven, by Emily St. John Mandel
This novel was Mandel's breakout hit, an international bestseller, critically acclaimed and recipient of several awards and nominations. Ostensibly the story of a travelling Shakespearean theatre company making their way across a post-apocalyptic North America, it's also about—in its author's words— "friendship, memory, love, celebrity, our obsession with objects, oppressive dinner parties, comic books, and knife-throwing." And fundamentally it's a celebration of the world and life itself.
Monoceros, by Suzette Mayr
Long-listed for the Scotiabank Giller Prize and winner of the W.O. Mitchell Book Award, Mayr's novel is dark, edgy and tragic, but everything is underpinned with joy. It's the story of a community unravelling after the death of a bullied gay high school student, and the fascinating interconnectivity of everything in life. Also, there are unicorns, a fairy godmother drag queen named Crepe Suzette, and a belching prophet called Jesus.
When Everything Feels Like the Movies, by Raziel Reid
Reid's novel about a high school misfit who imagines himself as the tabloid star of his own life has itself had a remarkable trajectory. Published by a small press, it went on to win a Governor General's Award for Children's Literature, be maligned as filth and a waste of taxpayer dollars by columnist Barbara Kay, and then become a bestseller as it was a contender in CBC's Canada Reads in early 2015. It's a difficult book to grapple with, but is worth it for its literary prowess and trickery, and for the authenticity of Jude's point of view.
Monkey Beach, by Eden Robinson
Nominated for Canada's two biggest literary prizes in 2000, Robinson's novel continues to be celebrated. From the Globe and Mail: "Glorious Northern Gothic. Robinson has an artist's eye, and delicately evokes the astonishing natural beauty of the Kitamaat region…behind Lisa's neutral voice is an authorial presence, weaving Haisla and Heiltsuk lore into the fabric of the novel gracefully, but with the quiet determination of an archivist cataloguing a disappearing way of life."
Girl Runner, by Carrie Snyder
Snyder's third book was inspired by true events—in 1928, female athletes were for the first time permitted to participate in track and field events at the Amsterdam Olympics—and is the story of Aganetha Smart, age 104 and reflecting back on her remarkable life. Snyder's depiction of 1920s Toronto is particularly evocative as is her character's passion for running and speed. This book was nominated for the Rogers Writers' Trust Award for Fiction in 2014.
Lemon, by Cordelia Strube
Critics tend to compare teenage protagonists to Holden Caulfield as a kind of reflex, but I only bring out the allusion when it really matters. This one, Strube's ninth book, was longlisted for the Giller Prize. Lemon is a misfit in a broken world, and while her situation is a bleak one, it's enlivened by her deadpan voice and her remarkable point of view.
Lesser Blessed, by Richard Van Camp
Books in Canada noted that with this novel, "Van Camp penetrates the lives of his characters with compassion and empathy, portraying an adolescent world that transcends the fights, drugs, music, and sex that characterize the stereotypical high school experience." First Nations writer Van Camp for two decades has made a name for himself as a remarkable Canadian writer. In 2012, this book (his first) was made into a movie starring Benjamin Bratt.
And Also Sharks, by Jessica Westhead
Westhead's story collection is as bitter as it is sweet, as is always terrifically funny. She shows there is virtue in understatement, in reserve, in being a misfit. And though her touch is light, her stories aren't—the world through these characters' eyes is the world as it is, and these strange and wonderful characters take it on everyday, brave, weird, and unflinching.