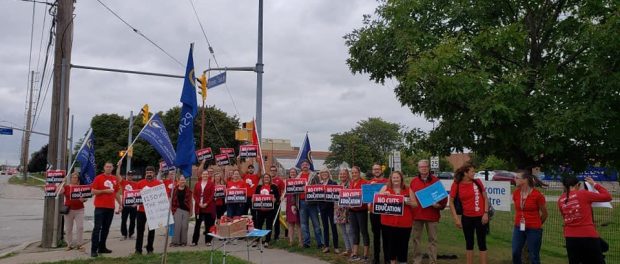 For this issue's "Bargaining Unit boost," Education Forum spoke with Tamara Witcher, 2nd year President of District 30's Provincial Schools Authority Teachers (PSAT). 
What types of job classes are represented by D30 and your Bargaining Unit? 
D30 represents the teachers of all four provincial schools in Ontario, in different locations.
What is one of the biggest challenges your Members face in their work? 
Because the government (the Ministry of Education) is our employer, we are not a school board. One of the biggest challenges we face is how we are treated directly by the employer. The employer (i.e., the government) knows that because we are a very small unit (170 Members), and because we represent only the teachers, they often violate our collective agreement. One hundred twelve grievances filed in the 2021-2022 year, for only approximately 170 Members, shows how bad our workplace is. Our employer continuously violates our agreement, because they know we are small, do not have a lot of money (from union dues), and that grievances take several years to be resolved. They simply do not care about us. For example, our occasional teachers (OTs) are not unionized. Their pay is $150 a day, which is the same pay I was earning as an OT in 2004. And because they are not unionized, the OTs are often scheduled for full days without any prep time, and have double Additional Professional Activities duties. Also, because of this low pay that has not increased in almost two decades, OTs and our recently retired teachers decide to work at other school boards where they receive better pay and better working conditions, resulting in a severe lack of teachers at our schools. While there is a lack of available teachers all over Ontario, the problem is doubly worse at the provincial schools. These problems could have been alleviated if the employer had listened to us and taken our feedback into action— increase pay for OTs and unionize them, for example. We have been fighting hard to unionize our OTs, and we are working hard as OSSTF/FEESO to fight for our Members as we head into bargaining.
What is one particularly unique thing about your Bargaining Unit that you think our Members probably don't know? 
We represent teachers in schools for the Deaf and for the Blind/DeafBlind, in Milton, Belleville, London, and Brantford. Each school campus has lodgings for students who live very far away from their schools. Being in different locations in Ontario make it hard for us to meet. Also, each school has its own needs and issues. 
Describe some of the value your Bargaining Unit (and District) get from being part of the OSSTF/FEESO community. 
Being a part of the OSSTF/FEESO community, we are able to take advantage of a large pool of resources and services. While it is easy to overlook us because we are a very small unit, we can get OSSTF/FEESO's attention and support if we ask for it. 
Describe one misconception members of the public  and/or the OSSTF Membership may have about the work your Members do—and correct that misconception. 
Although we are a small unit, we are very proud of our schools and believe our schools are the best for all Deaf, Blind, and DeafBlind students. These students often miss out on things that others take for granted, and staff in mainstream schools do not have the experience nor expertise to fully serve them. At our schools, many of our Members are like the students themselves (e.g., they are Deaf and/or blind), and many of them have graduated from the provincial schools themselves. They return to their schools not as students but as teachers (and EAs, lodgings counsellors, etc.). They return because their schools encouraged them to thrive, and they want that to continue for other, younger students. 
Tamara Witcher is a teacher in, and the president of, District 30, PSAT.