The Reconciliation Manifesto: Recovering the Land, Rebuilding the Economy
by Arthur Manuel (Author), Grand Chief Ronald Derrickson (Author), Naomi Klein (Preface)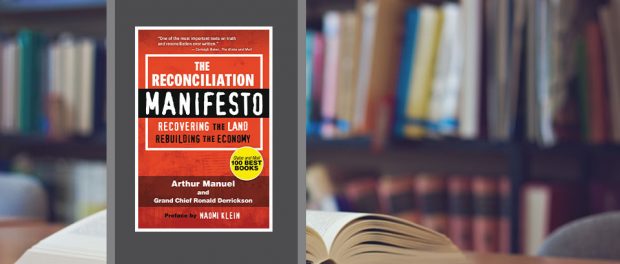 Arthur Manual, a widely respective Indigenous leader and activist from the Secwepemc Nation, co-authored The Reconciliation Manifesto with Grand Chief Ronald Derrickson of the Union of British Columbia Indian Chiefs. Manual and Derrickson succinctly layout the problems associated with Canada's current approach to reconciliation in Canada. Put simply, the authors posit that any attempts at reconciliation with Indigenous Peoples requires dismantling the colonial structures that control the relationship.

The authors celebrate the importance of grassroots movements who support Indigenous rights, including Idle No More and land defender groups, as they best represent the voice of Indigenous peoples. At the same time, Manual and Derrickson harshly criticize government-funded Indigenous organizations, including the Assembly of First Nations, as they are fed by the colonial machine and have had a minimal impact on influencing the political agenda.

Arthur Manual demonstrates his profound knowledge of international law and relations through his experiences of speaking at the United Nations and with other foreign diplomats. He cites the federal government's claim that it has implemented the United Nations Declaration on the Rights of Indigenous Peoples as disingenuous, as the government has disregarded much of that document's true substance.

While the subject matter may appear at first glance to be heavy and disheartening, the authors express their views in a concise and simple way. Their points are articulately thought provoking and they do not shy away from the issues in any way. Their writing is a reminder that reconciliation work must embrace approaches that foster a repair of the harms done and a reconstruction of all future relationships.

Sadly, soon after the completion of this book, Arthur Manual passed away on January 11, 2017.